Living or working in a peaceful environment has numerous benefits, from improved concentration and productivity to reduced stress levels. One effective way to create a peaceful environment is by investing in sound proofing for your home or office.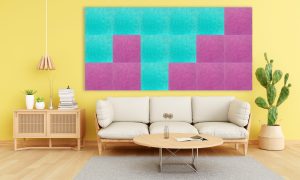 The benefits of a peaceful environment
Improved concentration: Unwanted noise can be a major distraction. By creating a peaceful environment, you can enhance your ability to focus and concentrate on important tasks.
Increased productivity: A quiet space allows you to work efficiently and get more done in less time. Eliminating noise interruptions can significantly boost your productivity levels.
Why soundproofing is important
Noise reduction: Soundproofing helps minimize the impact of external noises, such as traffic, construction, or noisy neighbors. It creates a quieter and more peaceful atmosphere, enabling you to relax and unwind.
Enhanced privacy: Soundproofing provides an increased level of privacy, preventing others from overhearing your conversations or activities within your space.
Better sleep: By soundproofing your bedroom, you can create a calm and quiet environment that promotes a more restful and uninterrupted sleep, leading to improved overall well-being.
Investing in soundproofing measures, such as acoustic panels, double-pane windows, or door seals, can make a significant difference in creating a peaceful environment that positively impacts your daily life.
Soundproofing Your Home
Creating a peaceful environment in your home or office is essential for productivity and relaxation. One important aspect of achieving a peaceful space is soundproofing. By reducing unwanted noise, you can enjoy a quieter and more serene atmosphere.
Identifying noise sources
To effectively soundproof your space, it is crucial to identify the sources of noise. Is it traffic from outside, loud neighbors, or the hum of your appliances? Once you have pinpointed the main culprits, you can implement targeted soundproofing techniques.
Effective soundproofing techniques
There are various techniques you can use to soundproof your home or office. Some simple and effective methods include:
Sealing gaps and cracks: Use weatherstripping or caulking to seal any gaps in windows, doors, or walls.
Installing acoustic panels: These panels absorb sound waves, reducing echo and reverberation in a room.
Using thick curtains or blinds: Heavy curtains or blinds can help block outside noise and provide additional insulation.
Creating a double-layered wall: This involves constructing an additional layer of drywall with a gap between the existing wall, helping to absorb sound vibrations.
By implementing these techniques, you can significantly reduce noise and create a peaceful environment in your home or office. Enjoy the benefits of a quieter space, whether you need to concentrate, relax, or enjoy quality time with loved ones.
Soundproofing Your Office
Whether you work from home or in a busy office environment, unwanted noise can be a major distraction that decreases productivity and increases stress levels. This is where soundproofing comes in.
Common noise problems in the office
Open floor plans: While open office layouts encourage collaboration, they can also lead to increased noise levels due to conversations, phone calls, and the general hustle and bustle.
External noise: Offices located near busy streets or construction sites often suffer from external noise penetrating through windows and walls, causing disturbances.
Creating a quiet and productive workspace
Sound-absorbing materials: Adding materials like carpets, curtains, acoustic panels, and furniture with sound-absorbing properties can help reduce noise reflections and echo in your office.
Strategic Layout: Consider placing noisy equipment or communal areas away from individual workstations to minimize disruptions.
White noise machines: White noise machines produce a steady background sound that helps drown out unwanted noise and create a more peaceful working environment.
By implementing sound proofing measures, you can create a quieter and more productive workspace that allows you to focus on your tasks without the constant distractions of noise.
DIY Soundproofing Tips
Is the constant noise in your home or office driving you crazy? Soundproofing might be the solution you need for a peaceful environment.
Budget-friendly soundproofing solutions
Weatherstripping: Seal gaps around windows and doors with weatherstripping to prevent sound from entering or escaping.
Thick curtains: Hang heavy curtains or drapes that can absorb sound and create a barrier.
Acoustic panels: Create your own acoustic panels using foam or egg cartons to absorb and reduce noise.
Simple steps to reduce noise
Seal gaps: Use caulk or foam sealant to seal cracks and gaps in walls, ceilings, and floors.
Use rugs: Place rugs or carpets on hard surfaces to absorb sound vibrations.
Add insulation: Install soundproofing insulation in walls or ceilings to reduce noise transmission.
Remember, soundproofing is a continuous process, and you may need to combine different methods to achieve optimal results. Don't let noise disrupt your peace of mind, get started with these DIY sound proofing tips today.